March 2020
One year anniversary, new logo and milestone build
Dear citizens of Earth,
We hope you are all doing well and that if you are in confinement that you manage to find some time to relax. On our side we are doing good, work is progressing as usual as we work remotely and we spend the extra time inside enjoying some games. There are some cool websites to play board games remotely out there and I can highly advise 7 Wonders if you haven't tried it. In some way, this confinement feels a bit like training for a trip to Mars! But enough of that, here are some updates of our progress in March.
First year of development
First of all, this month is a bit special as it has been exactly one year since we sent out our very first devlog! So much has happened and has been done that it seems a bit strange that it has only been a year. And this month we have achieved quite a bit that we feel we have reached a significant milestone.
A concept art of new settlers arriving on Mars.
New logo and icon
The first milestone is we now have a logo and icon! It took some time to agree and create what we had in mind (thanks to Tiago for the logo). The "O" of Terraformers represents Mars with the rocket representing the people coming to live there. The two circles on the big "O" represent the two moons of Mars. We are in the process of updating the website and other material with it.
Our new logo and icon.
Milestone build and first testers
This past month, even though GDC was cancelled, we decided to commit to the demo we wanted to show there and spend some extra time polishing it. The effort was worth it and we finally have our build which has enough of everything to be played and explored for a bit. Some major features are still missing, like the terraforming interactions, but in this build you can: explore the planet, settle cities, resolve requests from Earth, react to events, trade resources between cities and grow your population. Early versions of the interface and sounds are implemented and it starts to feel like a real game. We thus decided to open it to a small group of testers and their feedback and ideas have been really motivating. One of them managed to play the game for a couple hours, past what we thought was possible and bring the population in the millions.
Placing a new building in an undergound city, in a lava tube.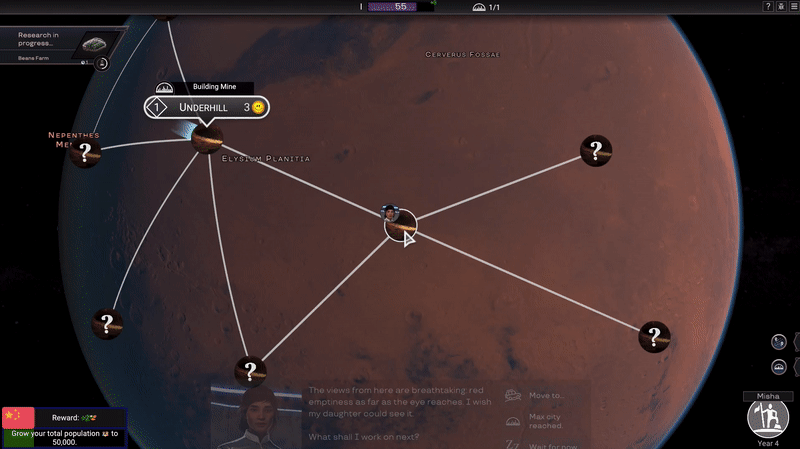 Exploring a new location and ending a turn.
Research and event popups
Next big milestone: Gamescom
Our next big milestone will be Gamescom in August. We will approach it like GDC and even if the event is cancelled, we will still commit to the demo as if we were going there. This demo will include even more features and content and we hope to be able to open up a bit our group of testers by then as well. We'll keep you updated!
In the meantime, stay safe and keep "training for Mars"!
Terraformers' dev team